International Palmist
Readings Counselling & Training
John Harrison is the leading Palmistry Counsellor in the U.K.
and has been teaching Palmistry for 30 years.A recognised tutor and consultant in palmistry.
Below is my itinerary for events I will be attending in 2016.
Do please come along and meet me and have your palms read.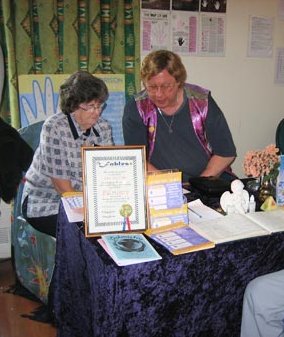 Check out this MBS Events video to show you what you can expect at these Events
EVENTS 2016
NAME / LOCATION
DATE / ORGANISER

Mucmara Mind Body and Spirit Show
The National Coal Mining museum
Caphouse Colliery,
New Rd,
Overton
Wakefield,
West Yorkshire,
WF4 4RH.

Sat 20th February

11.00am-6.00pm
Saturday £3.00 adults, Accompanied children under 16 - FREE


Mucmara Mind Body and Spirit Show
Essex County Cricket Club
The Essex County Ground,
New Writtle St,
Chelmsford
Essex
CM2 0PG.

Sat 19th & Sun 20th March

11.00am-6.00pm
Saturday £3.00 adults, Accompanied children under 16 - FREE

Ilkley Complementary Medicine Festival
Kings Hall & Winter Gardens,
Station Road,
Ilkley,
West Yorkshire
LS29 8HE
26th & 27th March

10.00am-5.00pm,Adults £4.00

Spiritual Flow Event
The Halls,
St Andrews Plain,
Norwich,
Norfolk,
NR3 1AU
2nd & 3rd April

10.00am-6.00pm
Adult £2.50.00,Concession £2.00,Under 16 - Free


York Health & Healing Festival
Knavesmire Stand,
York Racecourse,
YO23 1EX
16th & 17th April

10.00am-5.00pm


Phoenix Mind Body Spirit Event
Watersmeet
High Street
Rickmansworth
WD3 1EH ,
7th & 8th May

10.00am-5.00pm
Adult £4.50,Concession £4.50,Under 16 - Free
£1 off with this printable ticket CLICK FOR DISCOUNTED TICKET


Manchester Health & Healing Festival
Middleton Masonic Hall
Manchester Old Rd,
Middleton,
Manchester
M24 4DY,
21st & 22nd May

10.00am-5.00pm
Adult £5.00,Concession £4.00,Under 16 - Free

Holistic & Mystic Event
Kempton Park Racecourse,
Staines Rd E,
Sunbury,
Middlesex
TW16 5AQ
28th & 29th May

10.00am-6.00pm
Adult £5.00,Concession £4.00,Under 16 - Free


Lizian Event
Parish Hall,
Stapleford Road,
Trowell,
Nottingham
NG9 3QA ,
11th & 12th June

10.00am-5.00pm
Adult (WITHOUT TICKET)£1.00,Concession £1,00 Under 16 - Free
Free ticket CLICK FOR FREE TICKET


Labyrinth Health & Healing Show ,
Buxton Pavillion,
St John's Rd,
Buxton
SK17 6BE,
25th & 26th June

10.00am-6.00pm
Adult £5.00,Concession £4.00,Under 16 - Free


Mucmara Mind Body and Spirit Show
Cawthorne Village Hall,
Tivy Dale,
Cawthorne,
Barnsley,
South Yorkshire,
S75 4EH.

Sat 2nd & 3rd July

10.00am-4.00pm
Saturday £3.00 adults, Accompanied children under 16 - FREE


Leeds Health & Healing Festival
The Grammar School at Leeds
Alwoodley Gates
Harrogate Road
Leeds
LS17 8GS
16th & 17th July

10.00am-5.00pm


Rosemary Douglas Mind Body Spirit Events
Northwich Memorial Court
Chester Way,
Northwich
Cheshire West and Chester ,
CW9 5Q.

Sat 30th & Sun 31st July

10.00am-6.00pm


Chester Health & Healing Festival
Chester Racecourse
Watergate Street,
The Racecourse,
Chester
CH1 2LY
17th & 18th September

10.00am-5.00pm


Labyrinth Health & Healing Show ,
Great Yorkshire Showground,
Harrogate,
North Yorkshire,
HG2 8NZ.
24th & 25th September

10.00am-6.00pm
Adult £5.00,Concession £4.00,Under 16 - Free

Ilkley Complementary Medicine Festival
Kings Hall & Winter Gardens,
Station Road,
Ilkley,
West Yorkshire
LS29 8HE
29th & 30th October

10.00am-5.00pm,Adults £4.00

Holistic & Mystic Event
Kempton Park Racecourse,
Staines Rd E,
Sunbury,
Middlesex
TW16 5AQ
19th & 20th November

10.00am-6.00pm
Adult £5.00,Concession £4.00,Under 16 - Free